Tour Highlights
TOYOTA Landcruiser rental car with seating for 4 to 5 people
Arrival and departure night at a 5star hotel
HEIMPLANET The Cave tent and camping set
Cooking and dining equipment
24hr booking confirmation
Airport Transfer to the Hotel from Ulaanbaatar Airport or Ulaanbaatar Central Train Station
Ideal for nature, photographer and outdoor lovers
Mongolia Tour Car Rental Travel Packages for 1, 2, 3, 4 Weeks
Escape completely the ordinary and free your mind… We have created the best solution for you to travel independently through Mongolia with comfort and flexibility, avoiding any crowds of tourists and diving deep into the Mongolian nature and culture.
Touch down at Ulaanbaatar airport or arrive with the Trans Siberian Railway at Ulaanbaatar Central Station and get an airport transfer to a 5* hotel. Explore Ulaanbaatar's attractions like the Gandam Monastery and Choijin Lama Temple or one of the cities cashmere factories before you start your scenic drive to the ancient capital city Kharakorum and the Gobi desert as well as mystical Altai mountains through the empty steppes and untouched breathtaking nature with a new and reliable rental car and a modern Heimplanet camping set...
Set up your Mongolian camp in various breathtaking sceneries, look out for the Gobi bear or a snowleopard and practice Mongolian throat singing under the stars to feel like a true nomad. Ride a Mongolian horse and camel along the way, meet a Mongolian eagle hunter in the Altai Mountains, cook a Mongolian BBQ with the super organic Mongolian beef and enjoy Mongolian people with their diverse cultures.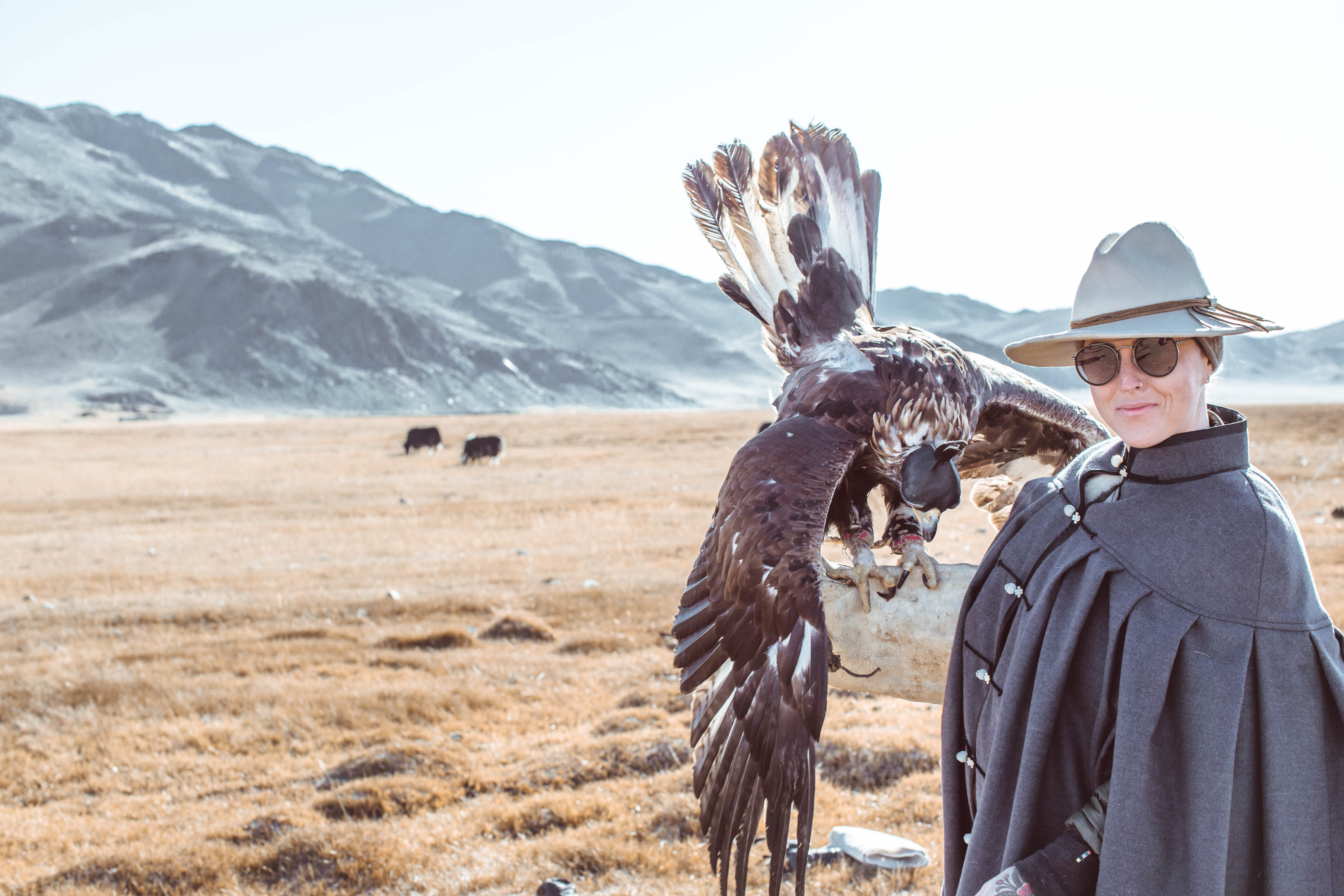 Here is your travel hack!
Best time to travel for this trip is April until October. Festivals you could visit during this trip are the Thousand Camel Festival (End of March), Naadam Festival in July (takes place in several provinces along the trip during July), the buddhist Danshig Naadam in August, Golden Eagle Festival in the Altai Mountains in October and Horse Festival in Khentii province with a detour in November.
What's Included
Airport pickup and transfer to hotel
2 nights incl. breakfast at a 5 star hotel in Ulaanbaatar
Choose either hotel and ger camp accommodation for every night during the tour or in rotation with camping nights
5-28 days rental vehicle from the leading car rental agency with a daily mileage of 250km (additional mileage can be added): Base rates include a spacious but simple Patriot. Upgrades available to TOYOTA Landcruiser 76 4x4 (manual), the TOYOTA Landcruiser Prado (automatic) or a Pickup Truck TOYOTA Landcruiser 79 with optional BETA Enduro Motorbikes including Third Party Liability Insurance.
HEIMPLANET The Cave tent for up to 3 persons including:
2 Sleeping mats
Gas stove4x 300ml gas canisters
Pots, pans, cookware
Dishes and cutlery
Very easy to set up and it takes you less than 60 seconds! Due to its unique design, strong winds of up to 180km/h are no problem!
Car Rental Detail
Get your keys at the car rental station close to the hotel on the 2nd day between 9:00-11:00 am. Return your keys prior 1 day before your departure at the car rental station between 5:00-8:00 pm. Please note a security deposit (to be placed by credit card - USD$1.500 or more depending on booking) is required for the car hire service.
Trip Duration
5-30 days, extension is available upon request
Please bring your own sleeping bags!
Not included are meals except breakfast during hotel stays and any consumables like water, food, beverage, fuel items except 4x 500ml gas bottles.
Exclusions
Please bring your own sleeping bags!
Meals except two times breakfast at Kempinski Khan Palance and any consumables like water, food, beverage, fuel items except 4x 500ml gas bottles.
28 Day Itinerary
Travel to the most fascinating regions of the country such as Khovsgol province and jump into the Mongolian Ocean, the Orkhon Valley with its rich history, Altai Mountains with its Eagle Hunters and the South Gobi. In South Gobi you can see unique landscapes that are home to prehistoric giant reptiles, meanwhile Khovsgol Lake is the famous blue pearl with reindeer tribes in northern Mongolia bordering Siberia near many great fishing rivers. Explore breathtaking glaciers and towering peaks of Altai Mountains as well as the Orkhon Valley with its forested mountain landscape, waterfalls, and temple sites. Visit Kharkhorum, the ancient capital of the Mongol empire as well as the monastery of Erdene Zuu.
You will meet different cultures, tribes and nomadic people along the route and amazing scenery, history, wildlife and adventure is waiting for you on this roadtrip.
Trip duration: 21-30 days. 30 days is the recommended trip length and includes 2 extra days.
Requirements: Suitable vehicle (camper van or SUV), tent, sleeping bags, cookware, mosquito spray, swimwear, sunscreen, warm clothes and a camera.

Trip highlights:
Camel ride through the huge sand dunes
Large Buddhist monastery
Great extinct volcano area
Reindeer herders, nomadic lifestyle
Mongolia's biggest lakes
Eagle hunting culture
Beautiful scenery
Intimidating presence of Altai Tavan Bogd mountain massif
Symbolic ruins of ancient capital city
Energy center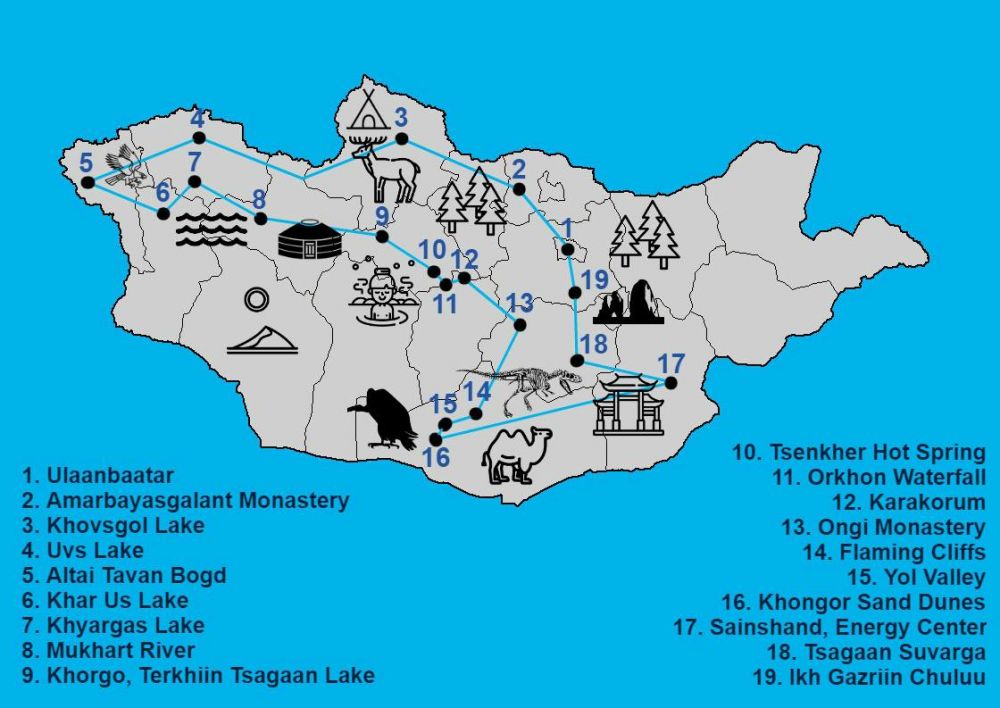 Day 1. Ulaanbaatar
Touch down in Ulaanbaatar city, shop your necessities for the coming days and see around the city before heading out to the nature. Start your city tour at the Sukhbaatar Square and visit the close by Choijin Lama Temple. The area is ideal for your lunch break with several good restaurants around the temple like Millies, Ayanchin, Silk Road, Veranda, Choijin Temple Restaurant and more restaurants and coffee shops are in the close by Shangri La mall.
Continue your afternoon with a visit to the Gandantegchinlen Monastery and Zaisan Memorial with a great view over the city.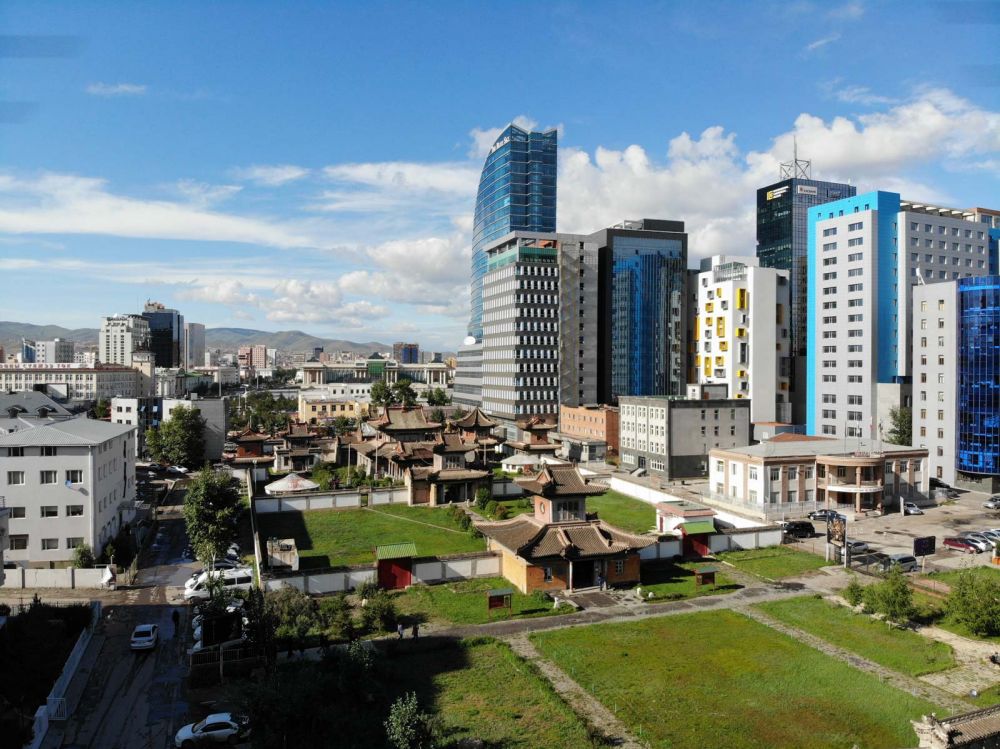 Day 2. Amarbayasgalant Monastery (Baruunburen soum of Selenge province)
Start your day with the famous Kempinski breakfast, get your rental car at the hotel and off you go to Amarbayasgalant! The Monastery was built by Manchurian Emperor in the 18th century. Dedicated to Saint Zanabazar, architectural construction of the monastery is picturesque. The main style is Chinese, influenced by Mongolian and Tibetan architecture. Although, Amarbayasgalant was affected by communist purge during 1930s, monastery partly survived the destruction and it got repaired by UNESCO from 1975 to 1990 until reopening.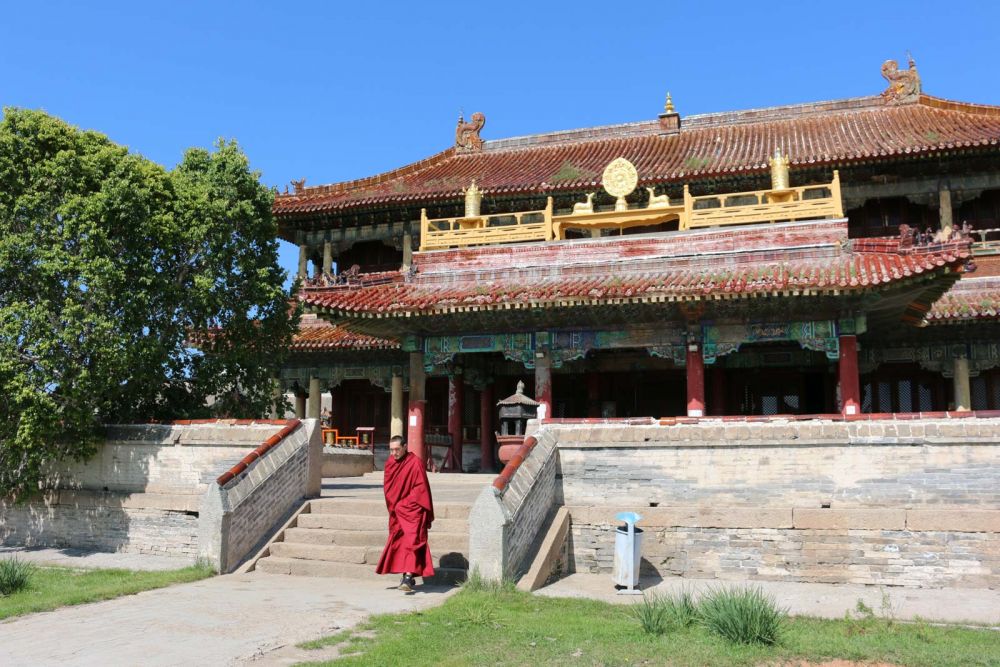 Day 3, 4. Khovsgol Lake (Khovsgol province)
Khovsgol Lake and the area surrounding it is a paradise for outdoor travelers and there are plenty of room for activities like hiking, bird watching, fishing, horseback riding and kayaking.
It's inhabited by nine species of fish including the Siberian grayling, sturgeon and lenok and the area is rich with various species of flora and fauna. The region hosts three separate unique nomads: Darkhad, Buriat and Tsaatan (Reindeer herders).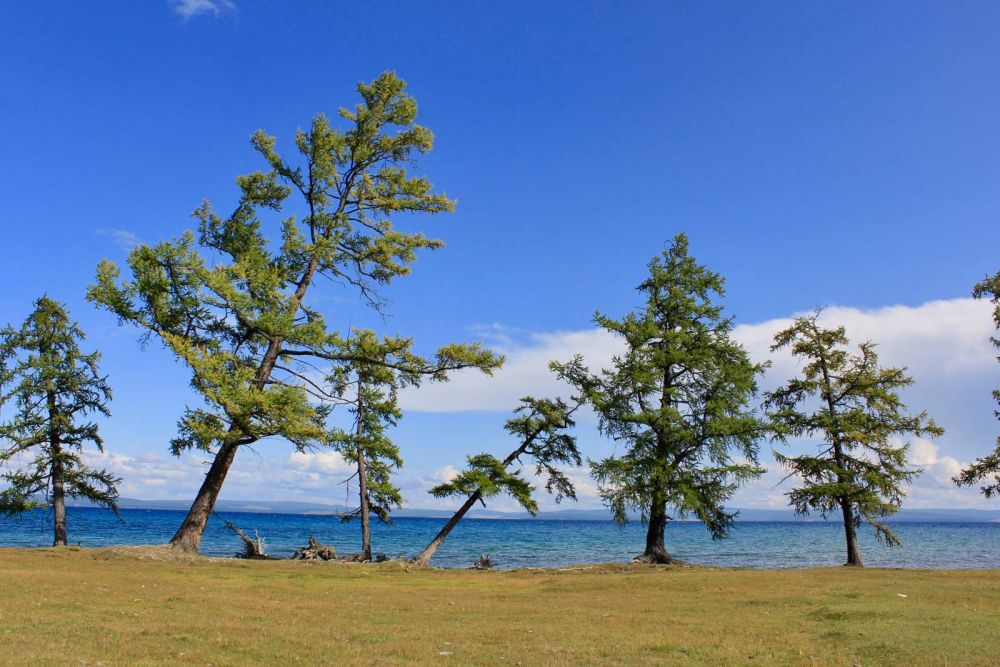 Day 5, 6. Uvs Lake (Uvs province)
Uvs Lake's surface covers over 3400km2, making it Mongolia's largest lake and the water is said to be saltier than the ocean. The area around the lake is ideal for bird watching. Over 300 bird species are documented around the area such as gulls, geese, spoonbills, cranes, eagles and white-headed duck.
Day 7, 8. Altai Tavan Bogd (Tsengel and Ulaankhus soum of Bayan-Olgii province)
Altai Tavan Bogd has some of the most stunning scenery in all of Mongolia with snowy mountains, beautiful glaciers, green valleys, and crystal lakes.
Altai Tavan Bogd National Park has many endangered species including argali sheep, beech marten, ibex, grey wolf, red deer, vulture, elk, snow leopard, and golden eagle etc. Tavan Bogd massif has a peak named Khuiten with its height reaching 4374m, making it the highest point in Mongolia.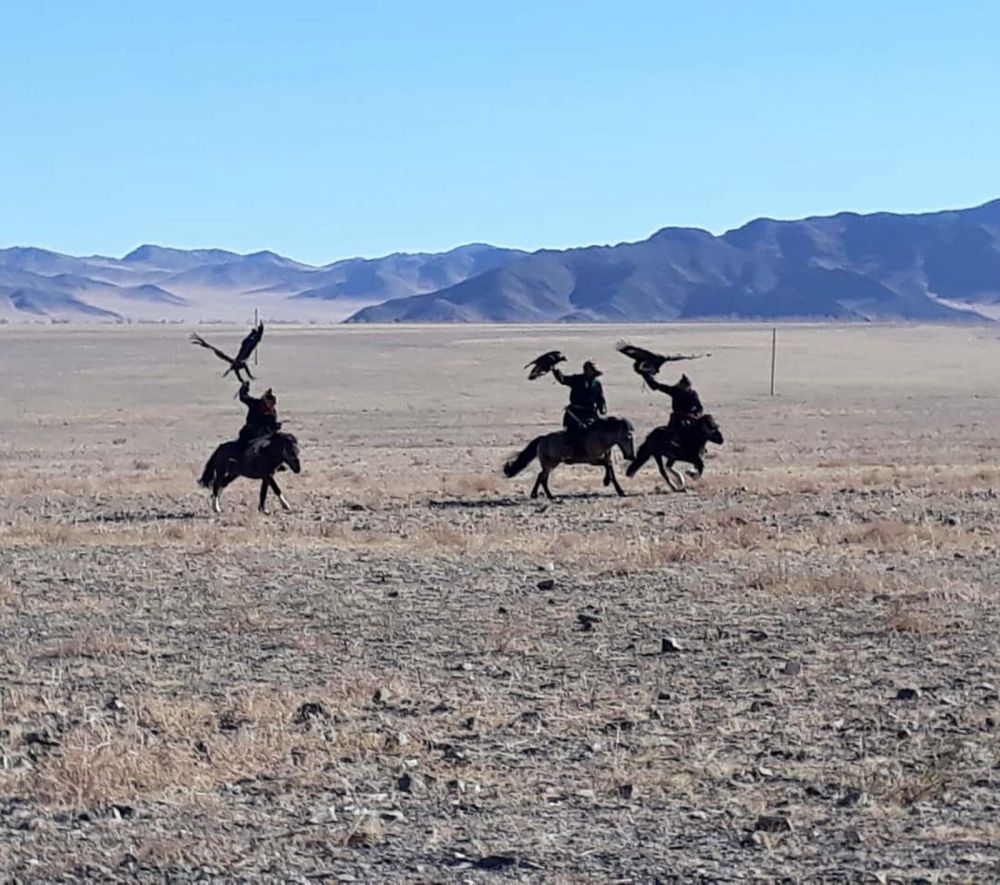 Day 9. Khar Us Lake (Khovd province)
Khar Us Lake is Mongolia's third biggest lake by area with 1578km2 surface, and it is home to wild ducks, geese, wood grouse, partridges and rare sea birds. Although, the lake is swarmed by mosquitos it's a great spot for bird watching.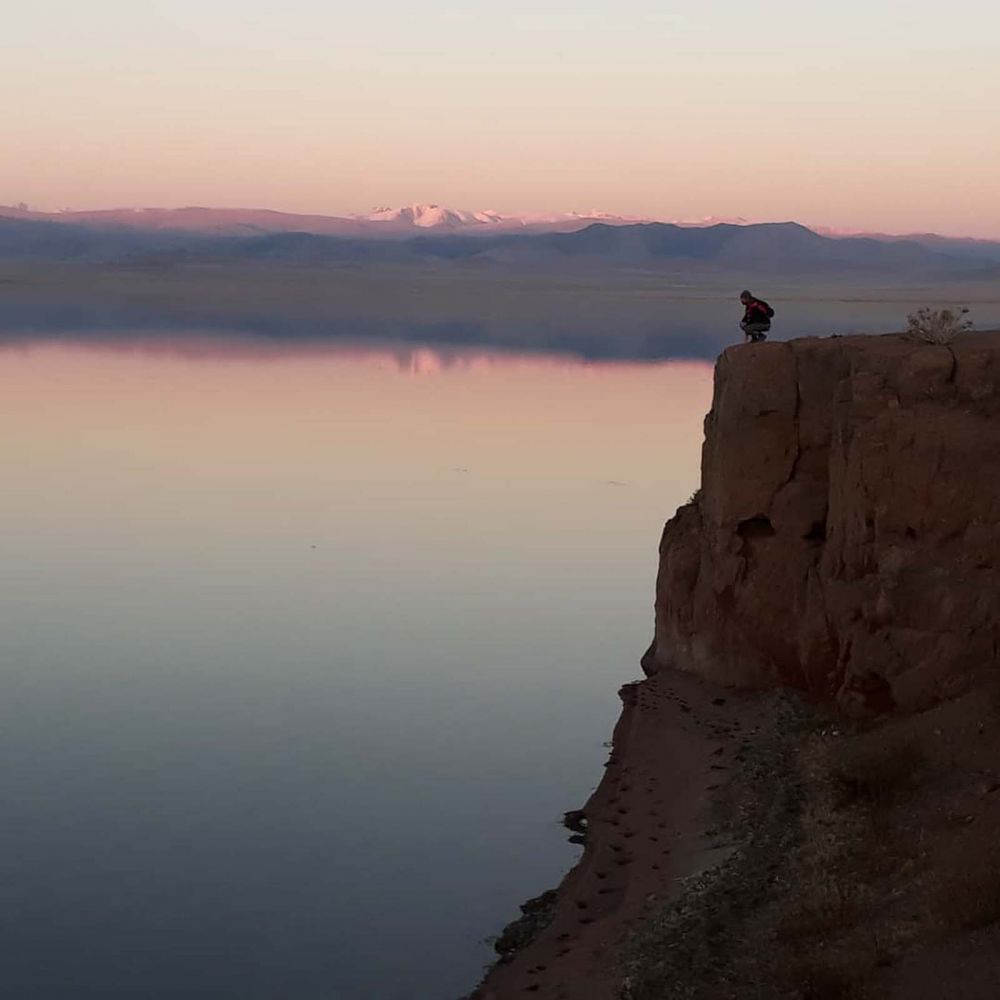 Day 10. Khyargas Lake (Uvs province)
Khyargas lake has rare fish such as mongolian grayling, pikes, different types of herrings as well as migratory birds. On the south side there's white cliff called Khetsuu Khad and it has stunning view. Swimming and bird watching are recommended here.
Day 11, 12. Mukhart River (Zavkhanmandal soum of Zavkhan province)
Mukhart River is a small river flowing 200km along the Bor Khyar Dunes, forming a lovely oasis. The source of this river are the lovely Bor Khyar Dunes were the springs fill the river before it disappears in the dunes. You can enjoy the view from the top of the sand dunes and try out camel riding.
Day 13, 14. Khorgo, Terkhiin Tsagaan Lake (Tariat soum of Arkhangai province)
The Khorgo volcano is located to the east of the Terkhiin Tsagaan Lake. Together they are the main attraction of the Khorgo-Terkhiin Tsagaan Lake National Park.
The extinct volcano erupted roughly 10,000 years ago and changed its surroundings once and for all. The most of the area is covered by poplar and peach forest, where wild berries, rare herbs and great variety of berries and flowers grow. There are lots of animals such as deer, wild goat and other animals, as well as various kinds of birds thus it's a great spot for animal photography and bird watching. As for the lake, it remains frozen a big part of the year.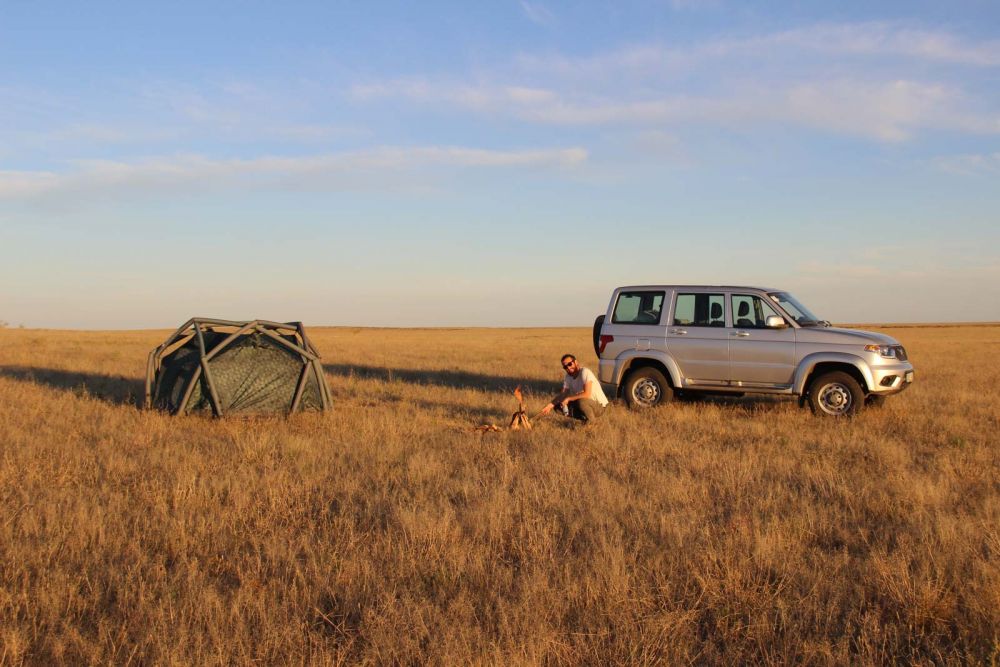 Day 15. Tsenkher Hot Springs (Tsenkher soum of Arkhangai province)
Tsenkher hot spring is surrounded by cliffs and rapid rivers. According to local people Tsenkher hot spring have healing properties that assists in treating articular diseases and nervous system diseases. You can relax in naturally heated outdoor water-pools while enjoying the nature as well as indoor baths that are available during winter time.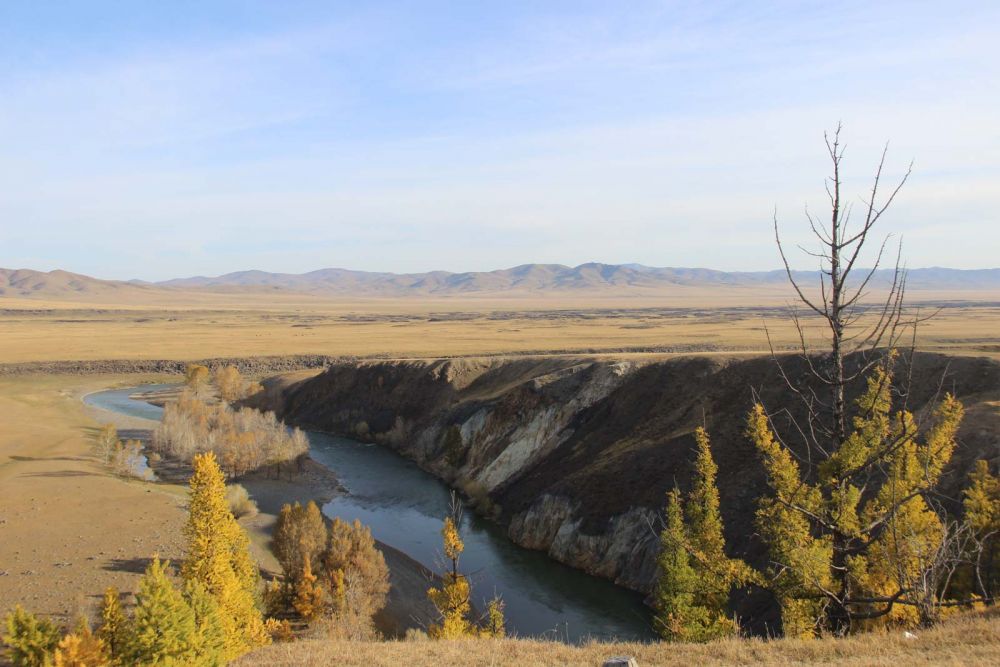 Day 16. Orkhon Waterfall (Kharkhorin soum of Ovorkhangai province)
Also known as Ulaan Tsutgalan, Orkhon Watefall is a must see and the most beautiful place in central Mongolia. If you're interested in ice climbing, you can come here in winter. The waterfall stays frozen from mid November to late March for about 130 days during the winter. The ice wall is 24m tall and it is a 85-90 degrees vertical.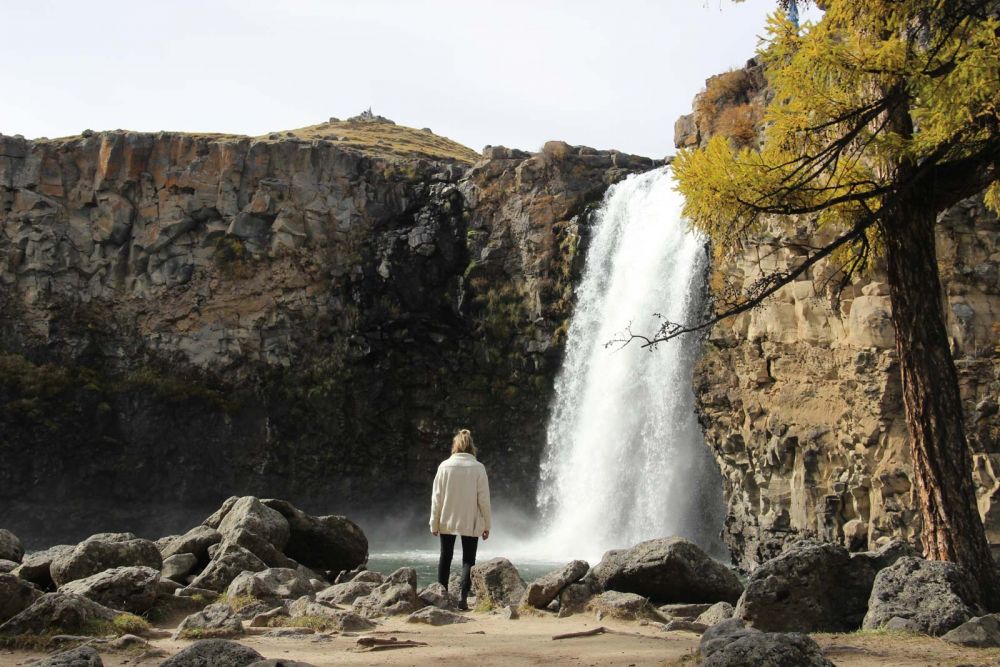 Day 17. 8 Lakes (Kharkhorin soum of Ovorkhangai province)
A remote location called Khuisiin Naiman Nuur (Khuisiin 8 Lake) 30km away from the Orkhon waterfall to the north. It has eight lakes with different sizes. Explore the area and all the lakes as the distance between them ranges from 500m to 3km.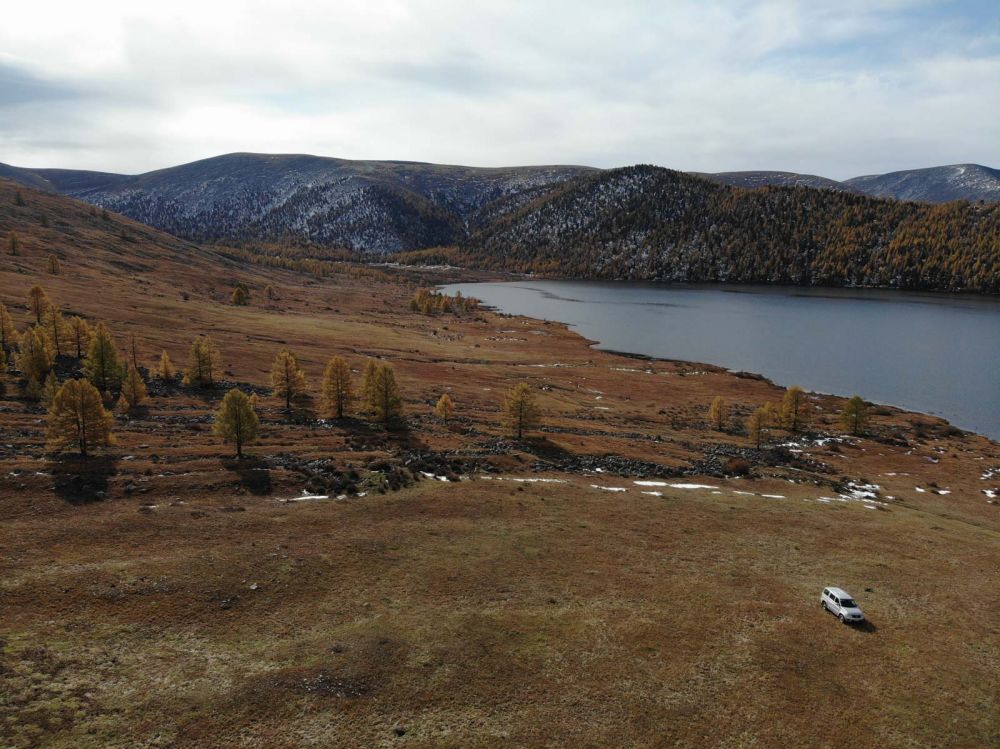 Day 18. Karakorum (Kharkhorin soum of Ovorkhangai province)
Karakorum was the capital city of the Mongol Empire between 1235 and 1260, and of the Northern Yuan dynasty in the 14–15th centuries. There's a museum built on the ruins that will unfold the intriguing history of the ancient city. Also, you can visit one of the earliest surviving Buddhist monastery in Mongolia, the Erdene Zuu Monastery which located right next to the ruins of Karakorum.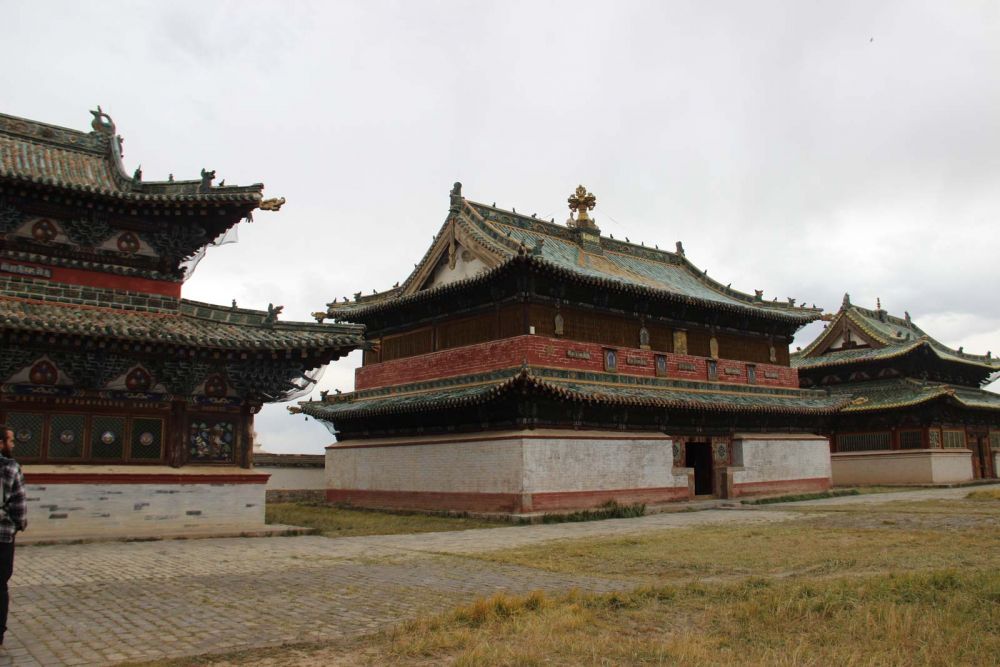 Day 19. Ongi Monastery (Saikhan-Ovoo soum of Dundgovi province)
Formerly one of the largest monasteries in Mongolia, Ongi monastery was founded in 1660. The monastery consisted of two temple complexes and the older one has various administrative buildings as well as 11 temples. Meanwhile, the newer complex was built in the 18th century, consisted of 17 temples. The Ongi monastery also had 4 religious universities and could accommodate over 1000 monks at a time. Unfortunately, in 1930s the monastery was completely destroyed and over 200 monks were killed by the communists.
Day 20. Flaming Cliffs (Bulgan soum of Omnogovi province)
Bayanzag red sand cliffs, better known as "Flaming Cliffs" due to their ochre and red colors, has many sedimentary sand cliffs where numerous dinosaurs' fossils have been found. Ride through the prehistoric giant reptiles' home on camelback.
Day 21. Khongor Sand Dunes (Sevrei and Bayandalai soum of Omnogovi province)
Also known as the Duut Mankhan (singing dunes), Khongor Sand Dunes stretches more than 180km and dunes' height reaches 15-30m.
You can climb to the top of the sand dunes and slide down, which will make the dunes to emit an interesting sound similar to singing. The desert view from the top of the sand dunes is amazing.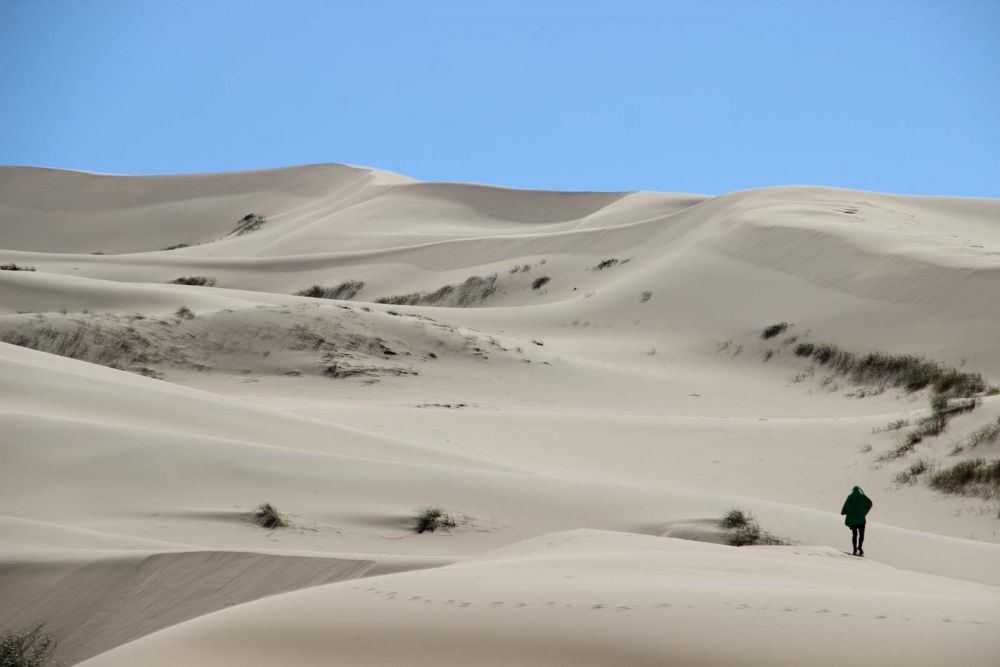 Day 22. Yoliin Am (Dalanzadgad soum of Omnogovi province)
Although, Yoliin Am (Bearded Vulture Valley) was originally established to preserve bird life in the region it is now became well known for its stunning scenery. You can discover permanent glaciers, endemic plants and rare animals such as bearded vultures, snow leopards, manul cat, beech marten, and Mongolian antelope.
Day 23, 24. Sainshand – Khamar Monastery/Energy Center
Visit the Energy Center, otherwise known as Shambhala. Locals believe it is best to enter the Energy Center right as the sun rises. Surrounded by 108 stupas, this site not only charges you with energy, it also gives a relaxing vibe. Also, there are meditation caves around the area as well as well-known Muumun Khad (Breast Rock). Although only women visit and pray to the Breast Rock. Meanwhile there's a mountain called Bayanzurkh, 23km to northwest of the monastery, which is believed to grant wishes, only this time women are not allowed at the peak. After exploring around the area, pay a visit to Khamar Monastery, founded by Danzanravjaa, who had the biggest cultural influence back in 19th century. The monastery complex contained a public library, a museum, a theatre, and a school for children which provided non-religious education.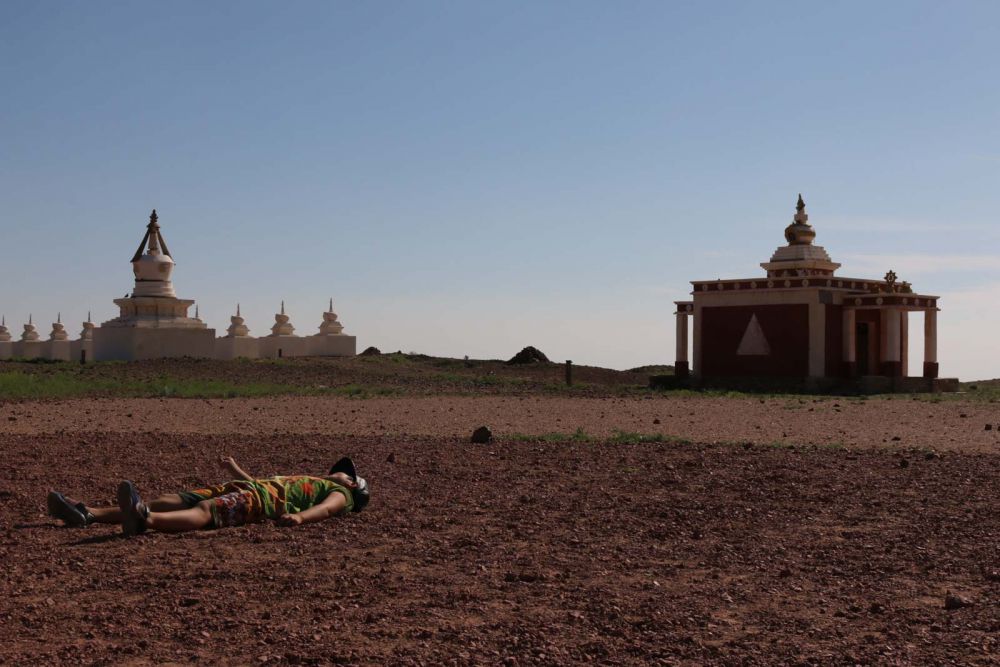 Day 25. Tsagaan Suvarga (Ulziit soum of Dundgovi province)
The rocky formations of Tsagaan Suvarga was an old seabed with sedimentary structure shaped by millions of years of natural forces and the different colors represent different times. You can explore Khevtee Bosoo agui (Lie and Stand Cave) or Del uul (Mane Mountain). Del uul is famous for its Bronze Age rock drawings and considered to be largest site of rock drawings in Central Asia.
Day 26. Ikh Gazriin Chuluu (Govi-Ugtaal and Gurvansaikhan soum of Dundgovi province)
Ikh Gazriin Chuluu is a mountain of granite rocks in the Gobi desert reaching 1706m at its peak. These rocky mountains has over 40 caves and the area is a home to over 20 species such as jerboa, eagles, bats, fox, wild sheep and siberian ibex. There are lots of myths about famous as well as infamous people who had nestled in the caves and those caves are usually named after the people once stayed in there.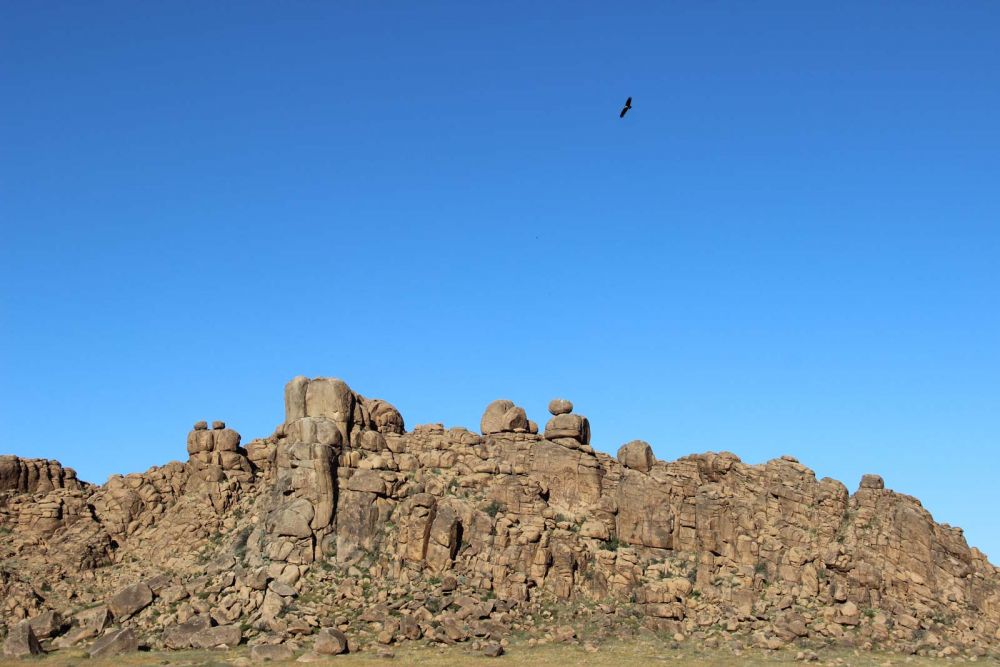 Day 27. Back to Ulaanbaatar
Wake up a last night in the steppes and start driving back to Ulaanbaatar. Haven't seen enough dinosaurs during your trip? Than stop at the Hunnuh Mall and the Archelogic Museum. Temples? Choijin Lama Temple and Gandam Monastery is your spot for a last spiritual encounter in Mongolia. Still craving Mongolian BBQ or a Mongolian Hot Pot? Ulaanbaatar's restaurants will serve you with pleasure! Or simply a last sunset view over a valley but this time filled with a skyline? A small hike up on the Zaisan Memorial or Bogd Khan Mountain is what you need. End the day with the feeling that you were missing in soft bedsheets in the 5star Kempinski Khan Palace.
Day 28. Departure from Ulaanbaatar
Start the day with an endulgance at the famous Kempinski breakfast. Afterwards SIXT Limousine pick you up from the hotel and chauffeur you to the airport right on time before you dive into the Mongolian blue sky!
Trip Prices and Availability
The tour price is based on the vehicle selection, accommodation package and travel duration. Please send us your travel dates for a quotation.
Available extras and package upgrades:
Rental car can be upgraded toToyota Landcruiser (manual). The ideal car for 3+ person is the offroad legend UAZ Patriot with plenty of space.
Car rental duration can be extended and additional hotel or ger camp nights can be booked upon request
Car rental insurances can be added (Loss Damage, Waiver, Tire and Windscreen Protection, Gravel Protection, Road Side Assistance)
English speaking driver service
Guide service
Internet to go
Tour Sim (2GB) for 14 days - $25 (keeps you connected during your trip and you can navigate with Google maps on your smart phone)
---
Want to see more of Mongolia?
We recommend you the following extensions:
2-3 days: Terelj National Park
4-7 days: Khentii Province in East of Mongolia
3-6 days: Taigaa North/West of lake Khuvsgul