Tour Highlights
Guided self drive tour
New 4x4 Jeeps
Worldclass diverse terrain
Guide and cook on tour
All accommodation and meals included
Fuel included
100% remote
Explore the Gobi desert on a once in a lifetime 4x4 adventure

One week with 6 intense driving days from Ulaanbaatar to the Gobi and back that you will never forget!
Covering 2.000km asphalt and dirt roads and tracks in this fully supported off-road tour.

The Gobi desert is an extremely diverse and interesting landscape. You will pass by interesting rock formations home of eagles, voltures and falcans, camp among rainbow coloured rocks, cross narrow valleys covered with ice in the summer and ride camels up high sand dunes.On the tour you will also meet local nomadic families, who still live the simple life and move around the steppes and desert in their gers with their livestock.
Check out the impressions from previous tours on instagram: https://www.instagram.com/liquimoly_extreme/

LIQUI MOLY EXTREME Tour Level: 3
LIQUI MOLY EXTREME tour levels from 1-5 describe the difficulty level of a tour and takes multiple factors into consideration: Required skill level for toughest offload parts (2 on this tour), endurance (4 on this tour), potential extreme temperatures and weather changes (3 on this tour), navigation skills (2 on this tour) and the overall physical fitness level.
You can drive on this tour without offload experience as the tour guide will give you instructions but some offload experience is helpful.
What's Included
Airport transfer in Ulaanbaatar for arrival and departure flight from SIXT
5 Star Hotel accommodation for first and last night of the tour in Ulaanbaatar
4x4 Rental Car UAZ Patriot or Toyota Landcruiser 76/79 from SIXT with Fuel
Crew with english speaking guide and private chef
Support vehicle
LIQUI MOLY product kit
Hotel, ger camp and wild camping accommodation during the tour
All meals, snacks and beverages (non-alcoholic and beer)
Not included:
Deposit for the rental car of 4,000,000MNT during the trip
Flight to Mongolia
VISA Fees
Travel, travel cancellation and health insurance
Trip Itinerary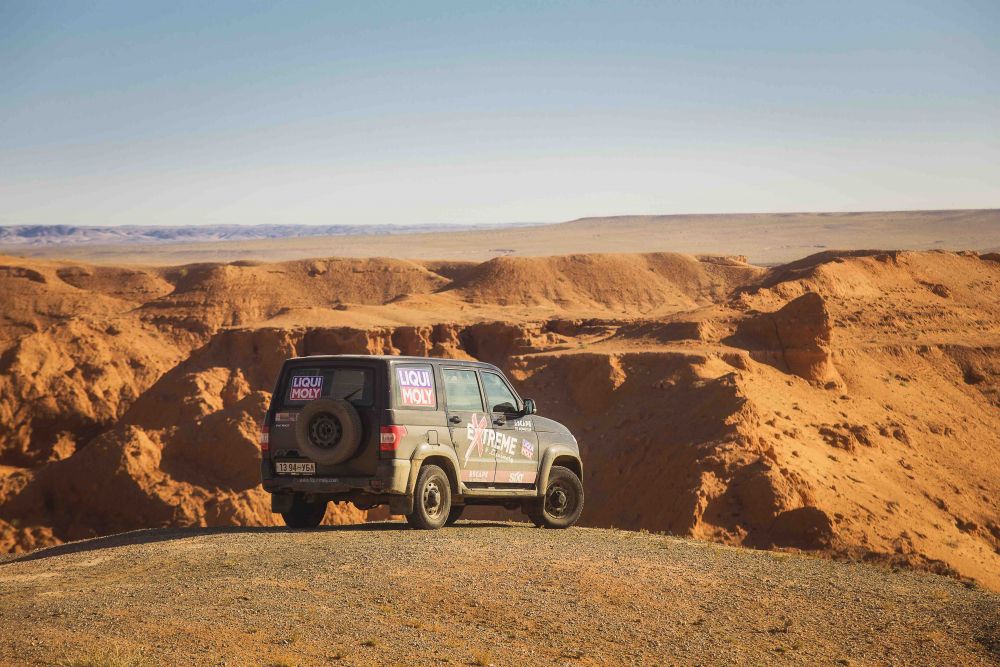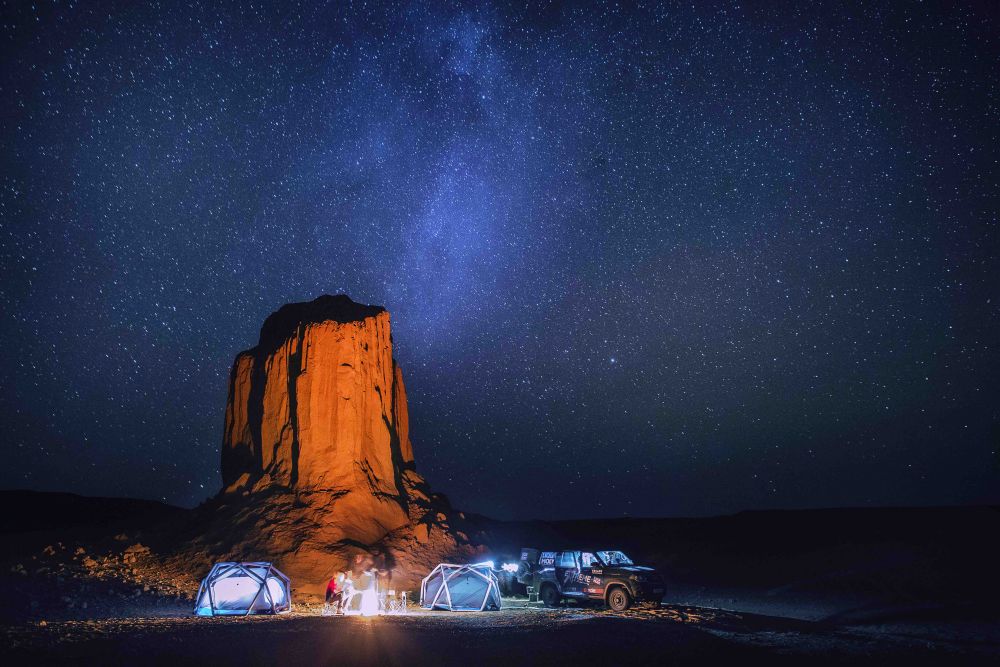 2024 Tour Price
May, June, September, October Tours
-4.000EUR per person
Third and Fourth person 1.200EUR per person
Single Supplement 1.000 EUR
July and August Tours
-6.000EUR per person
Third and Fourth person 1.200EUR per person
Single Supplement 1.000 EUR
Available Extras and Upgrades
Toyota Landcruiser 76/79 instead of UAZ Patriot 900EUR per vehicle
Automatic Patriot instead of manual 900EUR per vehicle
Exclusive individual tour without other participants - upon request
Trip extension - upon request
FAQs
What do I need to bring?
Sunglasses, sun protection lotion, clothing for warm and cold temperatures as it can cool down in the evenings, sleeping bag for the camping nights.
All drivers need to bring their valid driving license.
How many participants will join the group?
The regular group tour is limited to 5 participating cars.
Can I book such a tour exclusively with my friends?
Yes you can. In fact you can let us know your preferred dates even outside the tour calendar and we will let you know if we can arrange this individual tour for you. Extra costs might occur depending on group size, season and advance booking time.
What is the best time to travel to Mongolia on this tour?
Spring is ideal for the Gobi desert. This region warms up earlier than the rest of the country and has comfortable temperatures in spring and autumn.
Spring is particularly nice as you can see a lot of new born horses, camels, sheep and goats.
During the summer months it tends to be very warm during the day.
Do I need a visa?
United States of America, Canada, Russian, German citizens do not need a visa to Mongolia. Other European countries do need a visa, which is available at the Mongolian Embassy. Some nationalities like United Kingdom can get a visa on arrival.
Additional important information
All participants need to carry a valid passport with Mongolian visa.
Drivers need an in Mongolia accepted and valid driving license as well as a credit card for the deposit for the rental car (4,000,000MNT), which will be refunded two weeks after the tour.
Trip Cancellation and refund policy
There is no refund for cancellations. We highly advise you to purchase a travel cancellation as well as general travel health insurance from your trusted insurance provider. Participants are responsible for their own health during the trip and any costs related to health and injury treatments. Participants need to sign a liability waiver on the day of arrival. We highly recommend all participants to purchase a travel health insurance from their trusted insurance provider before the trip.