Tour Highlights
Modern 4x4 TOYOTA Landcruiser or Patriot rental car with seating for 4 people
Arrival and departure night at a 3-5 Stars Hotel
HEIMPLANET The Cave tent for up to 3 persons
Cooking and dining equipment
24hr booking confirmation
Airport Transfer to the Hotel from Ulaanbaatar Airport or Ulaanbaatar Central Train Station
Ideal for nature, photographer and outdoor lovers
Two weeks Escape to Mongolia
Escape complete and free your mind… We have the best solution for you to travel independently through Mongolia with the comfort and flexibility of a nomad, avoiding the epic crowds of tourists while enjoying the feeling of freedom in the Mongolian steppes during your Mongolia tour.
Traveling on your own with a fully equipped 4x4 will make your visit to Mongolia an adventure of a lifetime with great experiences like horse riding in the steppes, camel riding on top of the highest sand dunes of the Gobi desert, camping under a billion stars and emersing yourself in nomadic life.
Get picked up at the airport, experience the luxury of 5* hotel in Mongolia's modern capital city Ulaanbaatar, stop by the ancient capital of Genghis Khan, drive along epic tracks in the countryside and join locals and nomads for a night to lean more about their culture and land.
After a few days in the green steppes with plenty of attractions like the Orkhon waterfall this not so typical vacation package will bring you south deep in Asia's largest desert, the Gobi. In this region the nomadic culture adapted to a very unique dry weather.
Here is your travel hack!
What's Included
2 airport transfers
2 nights incl. breakfast at a 5 Star hotel in the center of Ulaanbaatar
10 days rental vehicle: TOYOTA Landcruiser or UAZ Patriot including Third Party Liability Insurance
Modern ground tent or rooftop tent
2 Sleeping mats
Gas stove
4x 300ml gas canisters
Pots, pans, cookware
Dishes and cutlery
Very easy to set up and it takes you less than 2 minutes! Due to its unique design, strong winds of up to 180km/h are no problem!
Car Rental Details
Get your keys next to the hotel reception on the arrival day around 17:00. Return your keys prior 1 day before your departure at the reception before 18:00. Vehicle upgrade to a larger automatic SUV is available upon request. Please note USD$1500 (or more depending on vehicle) security deposit is required for the car hire service.
Trip duration
12 days, extension is available upon request
Exclusions
Please bring your own sleeping bags!
Meals except two times breakfast at the hotel and any consumables like water, food, beverage, fuel items except 4x 500ml gas bottles.
Itinerary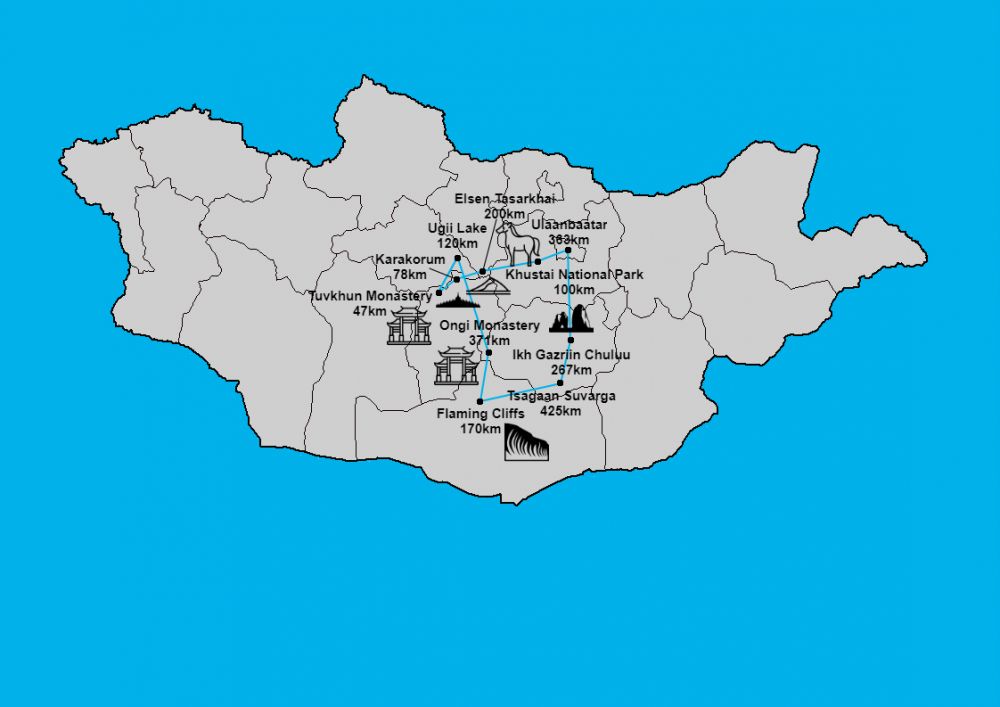 Day 0. Saturday: Fly to Mongolia
For European travelers most flights are overnight, making Saturday the ideal day to fly to Mongolia before starting the trip on a Sunday. For travelers from Asia and USA same day flights on Sundays are available but usually land at the late afternoon. It is more comfortable to leave on a Saturday as well and have a full Sunday before heading off into the steppes on Monday morning.
This package is available for any weekday to start. The mentioned weekdays are a recommendation. Saturday flights tend to get expansive and booked out first. Therefore booking early is recommended, especially during the summer months with the Naadam Festival and many other events.
Day 1. Sunday: Welcome To Ulaanbaatar
We will pick you up upon your arrival at Ulaanbaatar Airport or Ulaanbaatar Central Train Station in case you arrive with the Transsiberian Train from Beijing or Russia and drive you to the 3-5 Stars Hotel in the city Center of the modern city.
Start your city tour at the Sukhbaatar Square and visit the close by Choijin Lama Temple. The area is ideal for your lunch break with several good restaurants around the temple like Millies, Ayanchin (recommended for Mongolian Food), Veranda, Choijin Temple Restaurant and more restaurants and coffee shops are in the close by Shangri La mall.
Continue your afternoon with a visit to the Gandantegchinlen Monastery and Zaisan Memorial with a great view over the city.
End the day by attending the Tumen Ekh Ensemble - one of the best national song and dance ensembles in Mongolia.
*Contact us for city tour guide bookings and tickets to the Tumen Ekh Ensemble.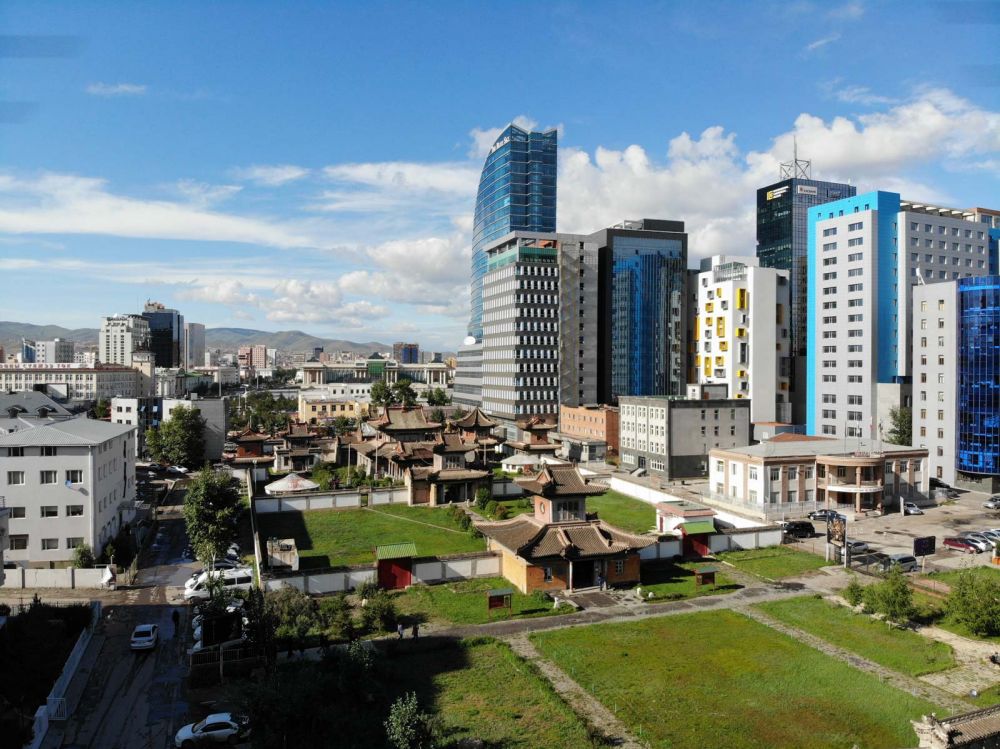 Day 2. Monday: Khustai National Park
(Altanbulag, Argalant, and Bayankhangai soum of Tov province)
Start your trip to the Khustain Mountains and last wild horses. Khustain National Park provides more of a wild experience through out the year. The main reason many people visit this park is to observe the Takhi (Przewalski's) horses, the last remaining wild horse species in the world. During the summer months the Takhi horse head to the ridges to escape the increasing heat. They come down into the valleys at the cooler times of day. It's worth spending at least one night in the park, as you are most likely to see Takhi and other wildlife at dusk or dawn. However, as with all wildlife, they can prove to be elusive.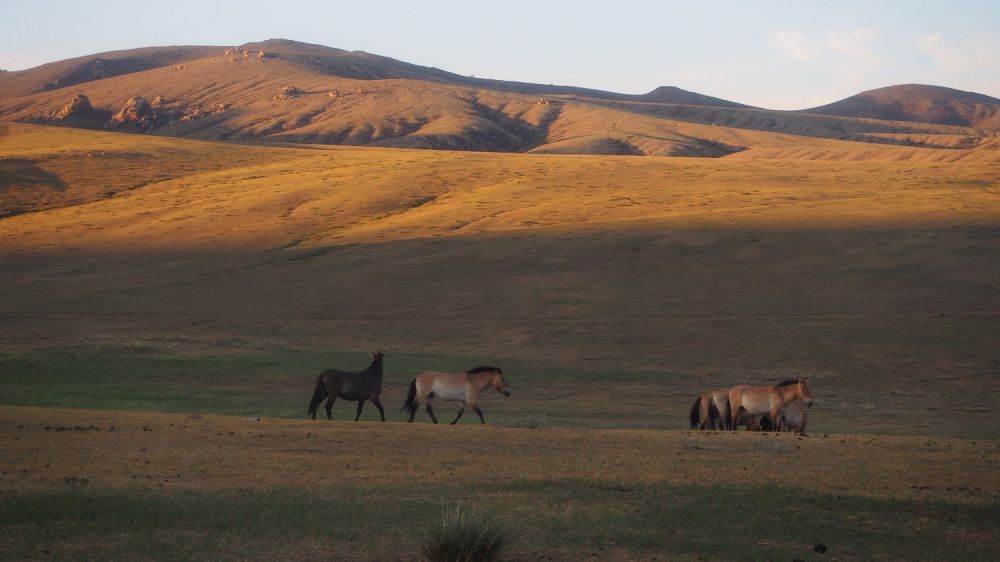 Day 3. Tuesday: Elsen Tasarkhai Sand Dunes - Karakorum
(Bulgan soum of Ovorkhangai province)
Elsen Tasarkhai is your next stop. Located 280 km west of Ulaanbaatar and 80 km east of Karakorum, this area is a small sequence of real desert in the midst of green steppes. This picturesque place gives you the first opportunity for camel trekking up on the dunes when you visit Mongolia. Drive to Erdene Khamba Monastery ruins, which is only 18 km north from Elsen Tasarkhai. Also ride the horses and camels proposed by tourist camps of this area. Take a break for the picnic and then continue your road trip to Karakorum city. Time to head for a sleeping place. End up for the night in the tent nearby the city or experience the local hotel or a family guesthouse.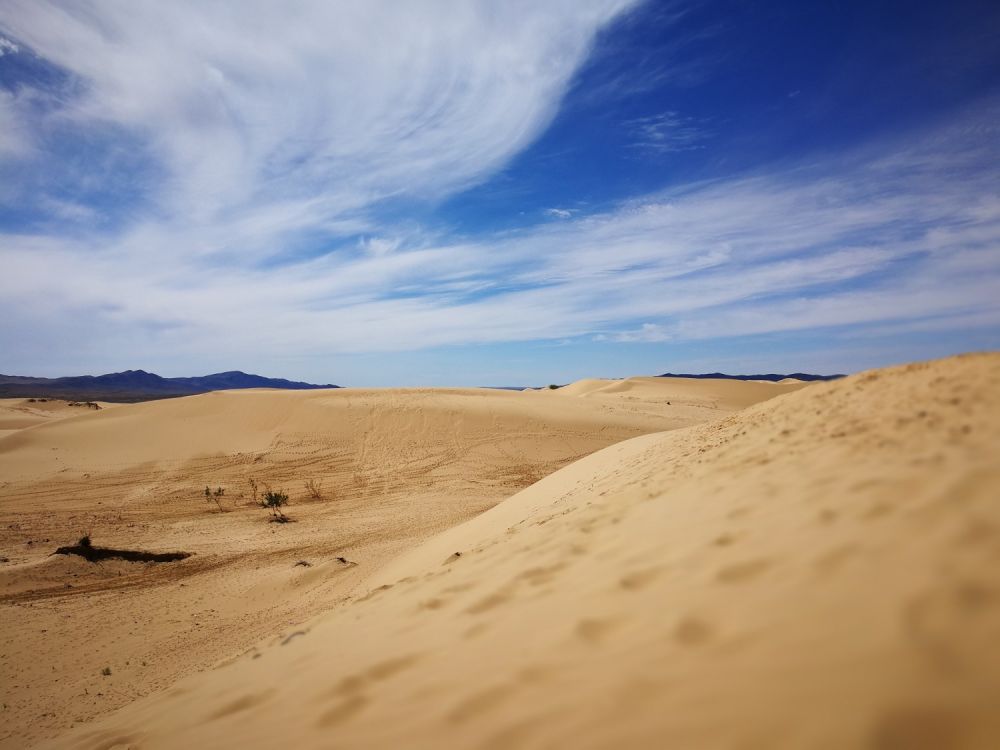 Day 4. Wednesday: Karakorum - The ancient capital of Genghis Khan
(Kharkhorin soum of Ovorkhangai province)
Karakorum was the capital city of the Mongol Empire between 1235 and 1260, and of the Northern Yuan dynasty in the 14–15th centuries. There's a museum built on the ruins that will unfold the intriguing history of the ancient city. Also, you can visit one of the earliest surviving Buddhist monastery in Mongolia, the Erdene Zuu Monastery which located right next to the ruins of Karakorum.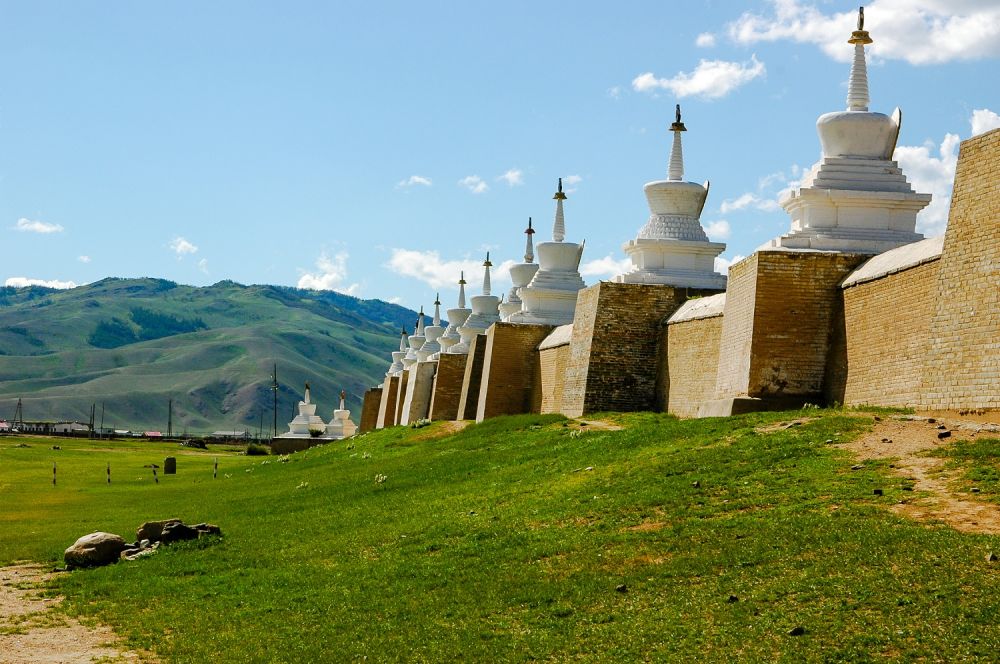 Day 5. Thursday: Orkhon Waterfall & Tuvkhun Monastery
Orkhon Waterfall/Red Waterfall
(Kharkhorin soum of Ovorkhangai province)
Also known as Ulaan Tsutgalan (Red Waterfall), Orkhon Watefall is a must see and one of the most beautiful places in central Mongolia. If you're interested in ice climbing, you can come here in winter. The waterfall stays frozen from mid November to late March for about 130 days during the winter. Ice wall is 24m tall and it is formed 85-90 degrees vertical. And there's a remote location called Khuisiin Naiman Nuur (Khuisiin 8 Lake) 30km away from the waterfall to the north. It has eight lakes with different sizes and the distance between them ranges from 500m to 3km. During the summer months many nomad families live in this rich grassland among mountains and rivers. You will have a chance to stop and visit local people, enter the yurt of a nomad and sleep in a ger camp (in a yurt). The local culture is centuries old and also Genghis Khan chose this region for a reason to build the capital city of the largest empire in history. The Orkhon Valley is ideal for a horse riding stop, which is for many a must do when travel to Mongolia.
Tuvkhun Monastery
(Khujirt soum of Ovorkhangai province)
Drive to Tuvkhun Monastery and explore its beautiful area, which is located in the dense forested and picturesque mountain Shijvee. There are several temples, a small cave for meditation and another cave called Mother belly. Go for hiking to rocky hills and enjoy the stunning beauty of the wild nature. Find a nice spot on the hills around the monastery for your HEIMPLANET tent and stay there overnight.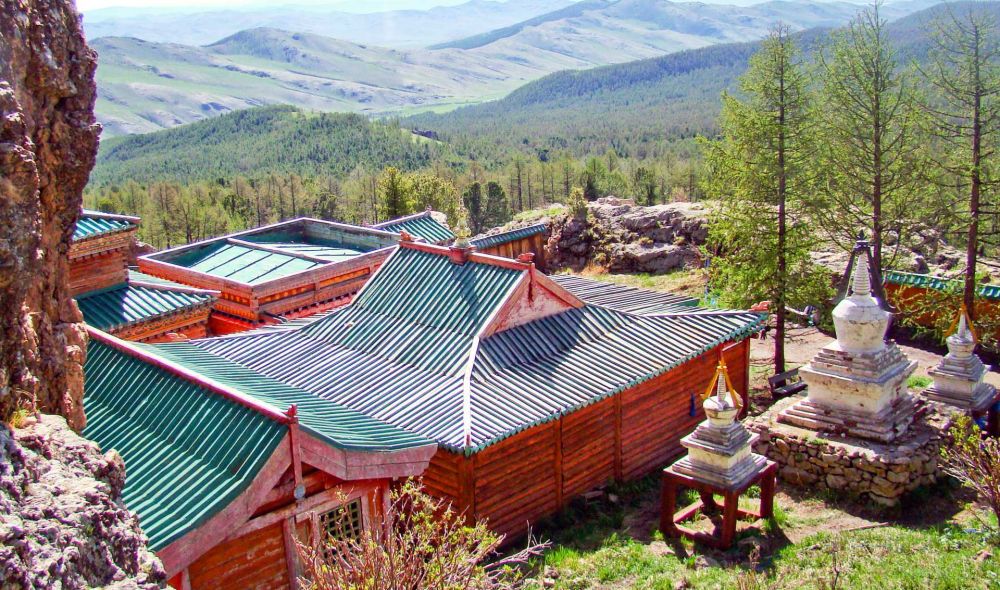 Day 6. Friday: Ugii Lake
(Ugiinuur soum of Arkhangai province)
Time to explore one of the biggest (freshwater) lakes of Mongolia. Drive to Ugii lake, a stopover point for more than 150 species of migrating water birds. Ugii lake is also renowned for its fishing, and is rich in Perch and Pike. Don't forget to take your swimming costume as the water is very warm during summer. Also it is enthusiastic for swimming, sunbathing, horse and camel-back riding around the lake. Make sure to keep your camera and binoculars handy for spotting and documenting rare bird life. There are several ger tourist camps around the lake to stay overnight, as well as information and training center.
Day 7. Saturday: Ongi Monastery
(Saikhan-Ovoo soum of Dundgovi province)
Formerly one of the largest monasteries in Mongolia, Ongi monastery was founded in 1660. The monastery consisted of two temple complexes and the older one has various administrative buildings as well as 11 temples. Meanwhile, the newer complex was built in the 18th century, consisted of 17 temples. The Ongi monastery also had 4 religious universities and could accommodate over 1000 monks at a time. Unfortunately, in 1930s the monastery was completely destroyed and over 200 monks were killed by the communists.
Day 8. Sunday: Flaming Cliffs & Khongor Sand Dunes
Flaming Cliffs
(Bulgan soum of Omnogovi province)
Bayanzag red sand cliffs, better known as "Flaming Cliffs" due to their ochre and red colors, has many sedimentary sand cliffs where numerous dinosaurs' fossils have been found. Ride through the prehistoric giant reptiles' home on camelback.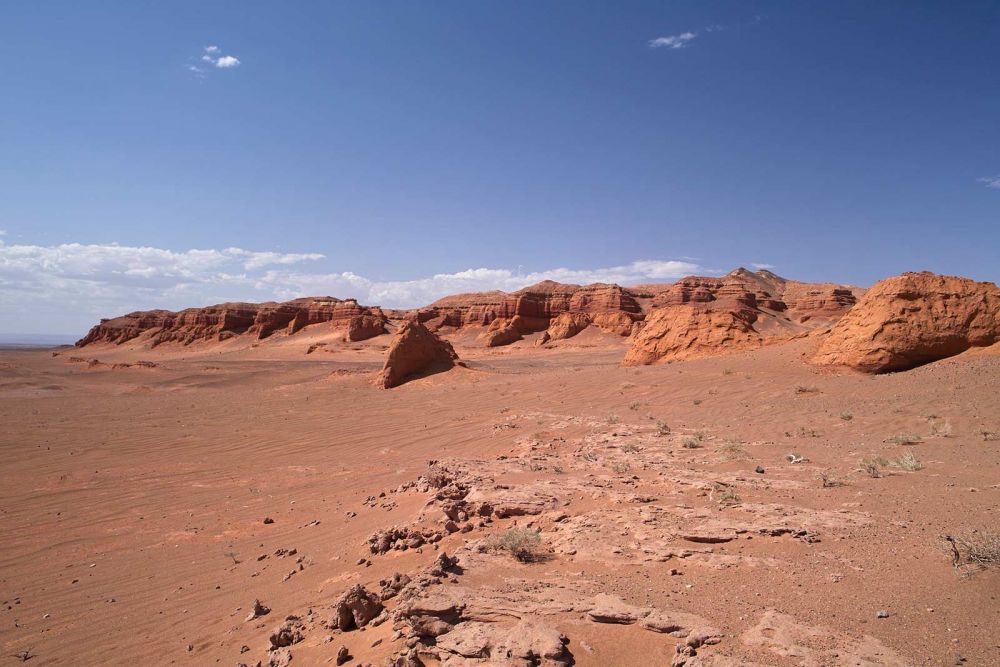 Khongor Sand Dunes
(Sevrei and Bayandalai soum of Omnogovi province)
Also known as the Duut Mankhan (singing dunes), Khongor Sand Dunes stretches more than 180km and dunes' height reaches 15-30m. You can climb to the top of the sand dunes and slide down, which will make the dunes to emit an interesting sound similar to singing. The desert view from the top of the sand dunes is amazing. Just make sure you climb up before sunrise to avoid hot sand on your toes in the Gobi desert during your Mongolia tour.
Day 9. Monday: Tsagaan Suvarga
(Ulziit soum of Dundgovi province)
The rocky formations of Tsagaan Suvarga was an old seabed with sedimentary structure shaped by millions of years of natural forces and the different colors represent different times. You can explore Khevtee Bosoo agui (Lie and Stand Cave) or Del uul (Mane Mountain). Del uul is famous for its Bronze Age rock drawings and considered to be largest site of rock drawings in Central Asia.

Day 10. Tuesday: Ikh Gazriin Chuluu
(Govi-Ugtaal and Gurvansaikhan soum of Dundgovi province)
Continue to tour Mongolia to the rocky formations of Tsagaan Suvarga, which was an old seabed with sedimentary structure shaped by millions of years of natural forces and the different colors represent different times. This location has become increasingly popular for tour packages going to to Gobi and many small group tours tend to arrive there during the day. Therefore we recommend to arrive late for sunset when the colors become strong or spend the sunrise there! You can explore Khevtee Bosoo agui (Lie and Stand Cave) or Del uul (Mane Mountain). Del uul is famous for its Bronze Age rock drawings and considered to be largest site of rock drawings in Central Asia.
Day 11. Wednesday: Back To Ulaanbaatar
Wake up early and drive back to Ulaanbaatar. Check-in at one of the best hotels in Ulaanbaatar. Return the keys from the rental car and enjoy your last night in Mongolia with a fun dinner at "The Bull Hotpot", or Shangri-La's Huton Beijing duck, or ZEN modern Japanese Restaurant to celebrate your trip without a tour guide but full of fun, adventure and unforgettable memories from your Mongolia tour.
Day 12. Thursday: Departure Time
Enjoy your breakfast at the hotel. Afterwards, we will bring you to the airport or train station.
Day 13. Missing Mongolia already?
To avoid this feeling on the 13th day, extend your tour for a few more days! Let us know during the booking how many days you have time and we will extend this itinerary for you to make it the best of all vacation packages you ever had!
Travelling with friends on this Mongolia Tour?
Upgrade your package from 2 Persons to 3 or 4 persons for additional rooms at the Kempinski Hotel and extra tent with two sleeping mats.
Extra Activities:
Tumen Ekh Ensemble Tickets – $10 per person
Want to see more of Mongolia?
We recommend you the following extensions:
2-3 days: Terelj National Park
4-7 days: Mongolia's north and the Khuvsgul Lake
7-14 days: Mongolia's West and the Altai Mountains
FAQs about this Mongolia tour for 2 weeks:
How much does this 2 weeks Mongolia tour cost?
The final price of this 2 weeks Mongolia tour will depend on the number of participants, advance booking time (book as early as possible to avoid sky high last minute rates during the Mongolian summer season), selected vehicle model and final tour length (the tour can be adjusted to your travel dates). Please send us your details and we will get back to you quickly with the cost for this Mongolia tour.
Is this Mongolia tour safe?
Mongolia is ranked as one of the safest tourist destinations worldwide, even safer than Germany! While driving the car on paved and unpaved roads depends on the drivers skills it is generally save. In case of breakdowns you will receive support.
What is the best time to do this 2 weeks Mongolia tour?
The best time to travel to Mongolia on this 2 weeks Mongolia tour is spring and autumn. End of May until end of June is a great season ahead of most Mongolia tours and with few tourists around. This time is unique as the stepped and Gobi desert recover from the cold winter with many new born animals and blooming flowers. Mid August until October is also a good time as the Gobi desert is not that hot. July and August are also possible but generally more expansive and there are many tourists travelling on Mongolian tours.
Additional Info
Bookings will be confirmed within 24hrs. A current valid passport or Mongolian Identity card as well as a valid driving license are required on the day of travel.
Cancellation Policy
This booking is not refundable.